The Army Dog Unit Northern Ireland,
Royal Army Veterinary Corps
ADU NI RAVC was formed on the 1st May 1973 to provide dogs and handlers to enhance the security forces and their bases.
The unique special role and composition of the unit was recognised in 1974 when the Commander Land Forces Major General  PJH Leng MC MBE granted the ADU NI RAVC personnel the right to wear an enamel Red Paw, measuring 1/4 of an inch, in their berets to the left of their regimental cap badge. This was to unite hundreds of military personnel under one unique specialist badge.
The Red Paw badge, certainly the smallest semi-official badge in the Army, represents the bloody paws of the dogs that were required to carry out their duties, quite often whilst walking on broken glass.
In April 1997, the General Officer Commanding NI Lieutenant General Sir Rupert Smith KCB DSO OBE QGM gave the authority for the ADI NI RAVC personnel to wear a "Red Paw" shoulder flash, as a battle recognition symbol, on the left shoulder of their combat clothing setting them apart from the rest.
Dog handlers were to wear the tiny enamel beret badge with pride for over 20 years before it was realised that the badge had never been officially sanctioned by the Army Dress Committee.
It was at this time that the official shoulder flash was introduced and sanctioned by the Army Dress Committee.
To register for membership for this site, please complete membership registration form below: Please include Parent Cap Badge, Dates served in ADU (if known) Bde served in and any other relevant information.
To contact us via Email use either
Dedicated to the memory of those who lost their lives whilst serving with the
Army Dog unit northern Ireland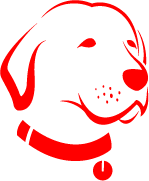 cpl b. criddle, bem
spr. m. orton
lcpl. p. hampson
cpl. d. brown
cpl.d. hayes
cpl. t. o'neill
ravc 23.07.1973
RE 17.09.1973
para 24.12.1981
UDR 28.05.1986
rpc 21.05.1988
rrf 25.05.1991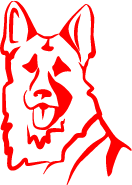 This Stone was laid in their memory by the members of the
Army Dog Unit Northern Ireland Association